Homemade Waterproofing Spray For Tents – 10 DIY Steps
What makes you fear a lot in winter camping? Ever thought? For me, It's WETNESS, WETNESS OF ANY KIND. Probably the same will be your major fear!
Smart campers always think a lot about staying dry inside or outside the tent. How is it possible to be outdoors in winter and avoid rain, to avoid snowfall!
It's impossible, though waterproofing your tent, clothing, and sleeping bags are possible! How can you waterproof your tent? There are multiple options.
Our topic here is how to prepare homemade waterproofing spray for tents.  To do this, mix 100% silicone full tube in mineral spirit 946ml(1Quart). Mix the solution and apply it with the paintbrush on the tent thoroughly. You can also use a spray bottle for this application.
Silicone has the quality to adhere to the surface and form a waxy coating on it. It stops liquid molecules from damaging the surface. 
Keep going to read more!
How Does Waterproofing Spray Work On Tents?
Check Out All Content Here:
Before waterproofing, make sure that your tent is waterproof or not. Most new brands make polyester or nylon waterproof tents. But if your tent has a thin fabric or it's cheap, it will need waterproofing spray.
This homemade spray actually builds an additional protective coating over the exposed surface of the tent. This protective coating acts as a water barrier to stop water molecules from absorbing in tent textures. As a result, water drops accumulate on the surface as droplets and then dry off in the air.
How To Prepare Homemade Waterproofing Spray For Tents?
Camping buddies who want to save money can prepare this spray at home. It is an instant project that requires no heat supply. You may require certain items given below :
Items Needed
10 Steps To Make Waterproofing Solution
Waterproofing camping accessories like bags and tents are pretty straightforward. If you have all of the above items you can make a powerful water-resistant solution for your cheap tents. Let's follow the steps to carry on the procedure that how to waterproof a tent cheap: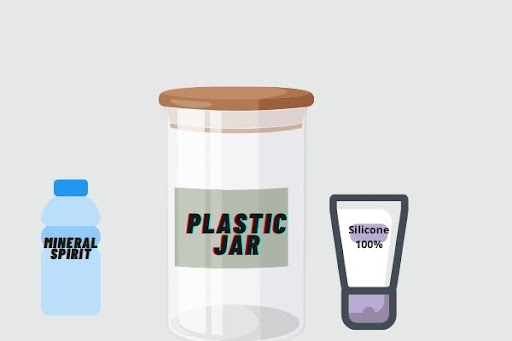 Step 1 Put Mineral Spirit In Container 
First, put on gloves as safety is a priority. Now take a clean plastic container. Pour full cane of mineral spirit in it
Step 2 Add Silicon Gradually
Take one pocket tube of 100% pure Silicone. You can order it online or buy it from any chemist shop. Now start adding 100% Silicone full tube gradually inside the spirit.
It's time to stir the mixture thoroughly. You can use a simple wooden stirrer or bamboo stick to mix it well. If you don't have these sticks you can use a Beverage stirrer or coffee stirrer. Don't use a steel or plastic stirrer as they can start a chemical reaction with spirit.
Step 4 Cover Up The Mixed Solution
After mixing, cover up the jar with a lid. Make sure that the lid is closed tightly. Always carry out this procedure in a jar with a lid. If you don't have a plastic jar you can use a glass jar with a cap on it. Screw up the lid on the container and close it tightly
After closing it tightly hold the jar in your hand. Now shake it well from all. MakeSHake the container to mix the solution thoroughly
Step 6  Re- Observe The Solution
Open the jar to see if it's mixed or not. If you see some lumps of silicone, repeat this procedure of mixing inside the jar.
Keep shaking until you find no lumps inside the solution. Finally, the Solution is ready! 
Step 7 Dip Paint Brush In Solution
Now it's time to apply it to the tent surface. Take a clean big-size paintbrush. Make sure the brush should be dry. Dip it inside the solution.
Step 8 Apply One Coat On Tent Outer Surface
Clean the surface you want to apply this waterproofing material. Make sure there will be no dust particles on it. Start applying the coat of the solution with a paintbrush gently on it.
When you are done, don't pack it instantly. Wait for it to dry off and form an extra sticky protective sheet above the tent surface.
Step 10 Double Coat For Thin Fabric
If your tent fabric is made up of thin fabric, you can double coat this waterproofing solution to get better results. For polyester and Nylon, one coat is enough.
(Note: YOu can pour the solution into a spray bottle and apply it to the tent)
Here is the video of the above procedure. Must Watch!
You can also apply this spray on your camping backpack, camping beds, and floor rugs. If you don't like a spirit or silicone odor, think about investing in KIWI Water Repellent Spray. It will make your cheap tent 100% waterproof 
Does Homemade Waterproofing Spray Work On Tent?
Yes, homemade sprays do work on the tent if silicone is 100% pure. It is challenging to buy pure and clear silicone. If the main products you are using in this solution are not high quality, your spray will not stop the water. SO, make sure to buy high-quality silicone and odorless mineral spirit. Modem campers use waterproof tents and they install extra rain flip covers to avoid rainwater. Good Idea!
How Long Does Homemade Waterproofing Spray Work On Tent?
As long as the bond between silicone and spirit is strong, it will stay waterproof. In flood conditions, it may lose its efficiency. If your tent has holes and it is worn out then it would be difficult for the spray to act as a water repellent. So, waterproof tents only if they are without any wear or tear.
List Of Best Waterproofing Sprays For Tents
Professional campers always go with full preparation. They invest money in getting top-quality products. Here is the list of Our Camper's Top Choice Waterproofing Sprays. 
HOW TO GET INTERNET ACCESS DURING CAMPING?
Final Lines:
It is a great idea to prepare homemade waterproofing spray. If you follow the steps above you can complete the process successfully. However, the total cost of making it at home and buying a commercial waterproofing solution is the same. 
It does not mean you should never know how to make it yourself. How do you make your tents waterproof? If you have some nice ideas, share them with us! Sharing is Caring Indeed!
How To Dispose Of Camping Propane Tank [5-Steps for Safe Disposal]
Have you ever enjoyed the outdoor grill on this winter camping trip? Are you worried to stay warm in your tent while sleeping? Are you conscious of your lantern? For all these, YOU NEED FIRE.
How will you arrange fire if the woods are wet and snow is everywhere? What would be the alternative fuel option in this scenario? Camping Propane Tank is the best option that will provide you instant fuel anywhere anytime. But what will you do when gas in this tank run out.
If you are worried about what to do with a used propane tent, read here! You can dispose of a one-time-used propane camping tank when it is empty. It is not the right option to throw it in the trash, recycle bin, and dumping station. You can leave the used tank at a safe drop place set by local municipal authorities near you. You can also hand them over to new cylinder retailers.
Coleman and other manufacturers produce millions of single-person use cylinders for camping annually. They are made up of steel and provide endless recycling opportunities. These manufacturers are now working to figure out ways to make them recyclable.  
What Is Camping Propane Tank?
Check Out All Content Here:
The most common type of cylinder that uses compressed gas is a propane tank. There are two basic types of propane tanks depending on size. 
Refillable Propane Tanks

One Time Use Propane Tanks.
Camping Propane tanks are mostly 1lb made for single-person use. They are green in color and you can't refill them through a fuel source when they are empty. But nowadays campers are preferring to take 5lb refillable propane tanks that hold enough gas for long trips. In America, campers prefer to use a single-person camping tank though it is risky to transport.
Why do Campers Need Camping Propane Tank?
While you are on a camping expedition on an RV or exploring the outdoors through tents, your basic necessity will be fire, water, food, and accommodation.  For cooking, grilling, lanterns, and to warm up the tent you will need to bring a propane tank with you. 
The need for a fuel source will be higher in the winter as your natural fire sources are wet and difficult to burn. If you don't take a camping propane tank with you, you will have to spend a lot of time collecting, drying, and burning natural wood. Burning the natural source is spoiling the beauty of the camping site and damages nature.
That's why professional campers who are lovers of the environment will never try to set fire to the wood. One more thing is that it is risky to bring a campfire inside the tent. During winter, they will arrange some alternate source like a propane tank to keep their tent and body warm.
What To Do With camping Propane Tank/Do's and Don'ts
As I mentioned earlier most of the camping tanks are made up of single-person one-time use only. But what to do with them once they are empty? 
Don'ts
Before disposing of these cylinders make sure they are empty. They are hazardous to throw outside if they carry some gas. Below are a few not-to-do things, consider them:
Don't throw them on camping site as they can catch fire

Don't leave them at the dumping station.

Don't throw them in a trash box as it is not allowed in many state rules. It can bring heavy fines and punishment if you are caught doing so.

Don't put empty cylinders in recycle bin with other household dispose of as it is highly flammable even if is empty
Do's
The best way is to dispose of them carefully. In some countries, recycling bins will accept them but they are not fit well in the bin and can catch fire if thrown. So, it is your responsibility to submit them to warehouses and manufacturers who want to recycle them.
How To Dispose Of Camping Propane Cylinder
What to do with a used camping cylinder if you can't toss them in the trash, recycle bin, and camping site? You are unable to keep them at home as it is risky. The only solution is to dispose of them according to state disposal law or municipal rules set by local authorities. Here are 5 steps to know for its safe and legal disposal:
5 Steps To Dispose of Camping Propane Tank
Disposing hazardous waste is not a straightforward process. You have to ensure the safety of recycling workers and retailers. For this here are a few easiest steps to follow. Let's consider the disposal method with safety as a first preference!;
Step-1 Make Sure Propane Cylinder Is Empty
It is a misconception to consider empty tanks safe. You will have to make it totally free of propane. For this, insert a key that comes up with a propane cylinder to draw a hole in it. All of the remaining gas will be extracted through the hole. Now it's safe to dispose of.
Step-2 Search Safe Drop Of Location Of Hazardous Waste
After releasing the remaining gas, do some internet search for household hazardous waste disposal locations near you. In Canada, the orange color drops off are a symbol of such waste. You can drop off your cylinder here. You can call or ask local municipal authorities about nearby drop-off stations.
Step -3 Dispose at a Warehouse that accepts Hazardous waste
If you don't find any safe location near you, it's better to search for a warehouse. But make sure they have the expertise of handling such flammable waste. These cylinders are made up of steel bodies and warehouses can extract recycling material from them. But it depends on your state law.
Step- 4 Submit Used Cylinder To New Cylinder Retailers.
If you fail to dispose of it in a safe drop-off or warehouse, you should submit it to new cylinder retailers. Many dealers deal with used cylinders and they would love to take them back from you. They are the right person to make the cylinder safe for further disposal. They have all the related tools and expertise in this field.
Step-5 Dispose At Local Municipal Transfer Facilities
Local Municipalities offer transfer facilities for such waste in many countries. What you need to do is to make them a call to know the location of their center. They will either pick the cylinder from your doorstep or you will have to leave it in their transfer center. This is probably a pretty straightforward step if your municipal authorities are responsive to such waste.
Our Top Choice Camping Propane Tanks
Coleman is the name of the Top manufacturer in this field. Our expert campers love their products. This Coleman Propane Fuel case is tested by many campers and it comes up with an adapter.
If you don't want to waste fuel in a burning lantern, you should invest in a BootYo Propane Lantern. Gas usage for the stove only, buy this GasOne Tank Camp Stove. Its advantage is that it comes up with a refill adapter and waterproof bag.
In the end, I would advise you to not bring a disposal cylinder as it is non-refillable. Moreover, its disposal is risky. The best thing to fuel up your cooking stove is to use refillable propane tanks 5lb. You need not fall into trouble getting rid of it. Our Expert Camper's Top Choice is this 5lb portable refillable propane tank. It is ideal for fire pits, grills, and lanterns.
 Closing Thoughts
Responsible campers will always think about the proper disposal of empty cylinders. But wise and professional campers will never invest in a one-time use cylinder. They will rather think beyond limits and will invest in a 5lb refillable propane tank. In this way, they never need to worry about their storage, disposal, and run-off time.
It is a sad fact that many campers leave their cylinder on camping grounds. Nature is our homeland. As soon as nature is alive our outdoors will be full of fun. Take care of the environment and save it for your generations. Happy Camping!
How do you dispose of your green cylinder? If you have some new safety tips, let us know. We'd love to post it on our website!
How To Get Internet Access During Camping?
Is Camping your Passion and Internet your Addiction? Who loves to leave addiction for the sake of passion? Take both passion and addiction with you on your camping adventure!
Buddies, are you worried that you can't live without the internet on camping grounds? We have a solution!
Read this article till the end and discover the easiest ways to get connected to the world through the internet during camping trips.
Read on how to get Internet Access while Camping? For internet access, track nearby internet routers through GPS tracking devices and get connected. Mobile tethering like hotspots is another option where towers are nearby. Purchasing mobile data is another good way. You can also get signals of wifi through a wifi-extender or booster. Satellite internet is costly but the ultimate solution to get connected all over the world.
It's up to you to choose what is the best fit for your budget. If you're on a long camping tour worldwide, satellite internet will be a good option. For camping in the homeland, consider hotspot or mobile data options. You can also search for wifi camping grounds that offer packages in which wifi charges are already included.
10 Easiest Ways to Connect During Camping
Check Out All Content Here:
Take a deep breath and read the 10 easiest ways to connect to the world through the Internet!
1- Use GPS tracking System
Hikers now take GPS devices with them that are connected to satellites. Through this device, you can send SMS easily to your relatives and friends. Both Android and iOS are designed to track the location of a person through GPS without using the internet. There are probably two ways. One is Assisted GPS, which is impossible to connect without data. But GPS radio can easily connect directly to satellites if you need it. That's why trackers are mostly using offline navigation apps. Assisted GPS can help you to locate the nearest mobile tower and wifi connections.
2- Search For Hotspot
Mobile tethering is another option. It will take you to a hotspot. Many countries are now offering free hotspot facilities in public places. Don't forget to check the location of hotspot places if you are planning to go too far in remote areas. Most mobile companies install antennas near the population. So, always plan your trip near to the location where internet services are available without any blockage.
3- Use Mobile Data
Mobile data is another good option for internet addictives. Though it's costly!. But telecommunication companies are now trying to introduce various packages. You can get the advantage of hourly, weekly, or monthly packages. The speed of mobile data is fast enough on 4G. But 3G users can also connect to the internet and enjoy good signal quality.
4- Take USB Internet Device
Many mobile companies are now introducing chargeable USB devices through which you can connect to the internet anywhere. But the quality depends on how far the receiver is from that area. For camping, you need to charge this device properly if you want to install it with your laptop or mobile phone. This USB is easy to carry anywhere. But make sure before going too far whether there is a mobile tower or not.
5- Connect Internet Through Wifi -extender
Wifi extenders or boosters are good choices if you have your modem with you. It's difficult for camping buddies as they always want to go out with less weight. If you are on a camping vehicle then you can have a better opportunity to load your modem there. Read below to know the setting if you can manage to take the modem with you.
6- Get Internet Through RV and Pre-Wifi Installed Vehicles
Nowadays campers are more clever than before. They use camping vehicles that come up with a pre-installed wifi setup. They can take their vehicle inside the camping location and can get the signals easily through it. During hiking they explore far-off areas without a vehicle it becomes difficult to get access. But once they return back to the vehicle., they will again start using the internet.
7- Get Satellite Internet Access
That's the best choice for campers all over the world. Though it's pretty costly. It works almost everywhere with no sign of a mobile tower. But it works well in remote areas.  Thanks to technology, the speed of the satellite internet is much better than dial-up internet connections. However, campers have to purchase their connection through reliable local providers.
 8- Search For Internet Cafe Or Free Wifi Services Nearby
There are so many far-off destinations and malls that offer free wifi service. If you are away from your home, you can search for internet cafes, malls, hotels, or other shops that offer free internet services. Though for remote side camping it would not be possible.
9- Avail Unlimitedville If You are a US citizen
Unlimitedville offers ultimate internet access if you are camping anywhere in the USA. It is a membership organization. It provides unlimited and uninterrupted wireless data to its members. This organization works on 4 major carriers and allows you to use data or hotspots around the corner of the US as far as you are its member. If you are off-grid during camping this would be the best solution to get connected to the world through the internet.
10- Get WIfi Access From Camping-grounds.
Nowadays many countries have allocated camping spots for foreigners. In these hotspots, they offer camping ground wifi to the users who visit there. To avail of this facility, you may have to pay before you plan your trip. Such camping grounds are well equipped with all facilities like camps, bone fire arrangements, fishing, hunting guides, and many more. If you are interested in camping, search more for camping hotspots with a pre-installed wifi facility.
Let's dive deep to have more insight into each internet accessibility option!
How To Get Internet Access through GPS Tracking Device During Camping?
Though GPS tracking devices don't directly offer an internet solution, it will help you to locate the nearby receiver or mobile tower. Garmin tracking devices in camping vehicles come with the feature of voice message or SMS. If you are on a world tour you need to connect your tracking device to Satellite Communication services. Major Internal Global Satellite providers are Inmarsat, Iridium, and VSAT. If you don't need global coverage then satellites in geostationary orbit could be used and maybe the expenditure will be lower.
Below is a list of the best GPS tracking devices with navigation maps, and BlueTooth features.
Garmin Inreach Handheld GPS allows communication through SMS. It is the best device if you are a cyclist and want to enjoy bike rides on hiking trails. Another exciting news about this handheld tracker is that it offers a compass, barometric altimeter, and accelerometer. Hikers' complete solution to connectivity issues during camping if you are away from your friends.
Best GPS Tracking Devices 2022
Whether you are cyclist and hiking tracks or riding bikes, our top pick of handheld GPS devices will keep you stay connected all the time:
[i2pc pros_icon="icon icon-thumbs-up" cons_icon="icon icon-thumbs-down"  show_button="true" pros_title="Pros" cons_title="Cons" button_icon="icon icon-cart-1″ link_text="Customer Reviews" link="https://amzn.to/3aiXV0g" ][i2pros]
It offers a navigation solution with maps
Few GPS trackers are  good for sending SMS
[/i2pros] [i2cons]
If not connected to Satellite they will not work
[/i2cons][/i2pc]
How to Get Internet Access Through Hotspot Or Mobile Tethering During Camping?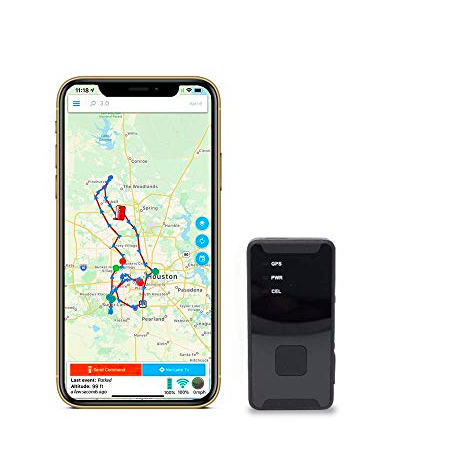 A Mobile Phone hotspot is a serious tool that offers connectivity when you are off the grid. In other words, a hotspot offers web connections to nearby routers via software. You can connect to dozens of devices from a single hotspot connection. It is available in public places free of cost in many countries. The main hurdle while connecting through a hotspot is when you are in remote areas with no access to mobile towers nearby.
Open Mobile tethering
Setting Wifi Off
Hotspot Connectivity On
[i2pc pros_icon="icon icon-thumbs-up" cons_icon="icon icon-thumbs-down"  show_button="true" pros_title="Pros" cons_title="Cons" button_icon="icon icon-cart-1″ link_text="Customer Reviews" link="https://amzn.to/3aiXV0g" ][i2pros]
It's free of cost.
It is easy to access in areas with low receiver signals.
It is good for sending SMS via Whatsapp and other social media services.
[/i2pros] [i2cons]
It will drain off your battery quickly
It is not recommended to watch movies or youtube through hotspots.
[/i2cons][/i2pc]
How to Connect Internet Using Mobile Data?
Mobile data is another offer for campers. It is for mobile users with SIM cards. They purchase data of different MBs and packages and can use the internet anywhere  For this you have to purchase a bundle or package first. Open mobile data whether you are a 3G user or 4G user, it will work. 
[i2pc pros_icon="icon icon-thumbs-up" cons_icon="icon icon-thumbs-down"  show_button="true" pros_title="Pros" cons_title="Cons" button_icon="icon icon-cart-1″ link_text="Customer Reviews" link="https://amzn.to/3aiXV0g" ][i2pros]
Cost-Effective
Good for Browsing
Medium speed coverage for streaming videos
[/i2pros] [i2cons]
Low accessibility if the tower is too far
Not good for live streaming
[/i2cons][/i2pc]
How To Connect Internet Through USB while Camping?
Another solution is to invest money in portable USBs from different mobile companies. For campers, the prepaid option of internet USB from different mobile companies is a good one. It offers limited access but high-quality services. Contracted USBs offer unlimited access. It is good for long-term usage. You can contact local mobile companies to buy prepaid internet USBs.
Best Camping Internet USB's 
Here is a top collection of Internet USBs for laptops and mobile. Have a look!
[i2pc pros_icon="icon icon-thumbs-up" cons_icon="icon icon-thumbs-down"  show_button="true" pros_title="Pros" cons_title="Cons" button_icon="icon icon-cart-1″ link_text="Customer Reviews" link="https://amzn.to/3aiXV0g" ][i2pros]
Easy to carry.
High-quality internet
You will pay according to usage
[/i2pros] [i2cons]
Not good for live streaming
Need chargeable device
Coverage is not available in remote areas.
[/i2cons][/i2pc]
How To Get Internet Through Wifi Extender Or Range Booster?
Buddies if your camping site is near to your home or an area with lots of wifi connections s you can get the advantage of a wifi extender. It is actually a device that you need to install at the edge of your expected wifi range. Remember it is direction sensitive. If wifi routers are on the left side they will not work on the right side.
It increases the range of existing wifi signals so that it may connect to a few extra miles. Most of these devices come in with plug-and-play features. Wifi repeater is another option to double up the wifi range. But it will also work near existing wifi connections.
Best Wifi- Boosters For Camping
Whether you are looking for a wifi extender for RVs or camping sites, our top collection will help out in choosing the best:
How To Get Internet Through Pre-Wifi Installed Vehicles Or Rvs?
Modern campers are more disciplined and they love investing in pre-wifi installed vehicles such as RVs. If your camping vehicle is without wifi you can get the help of professionals or local installers for wifi installation.
The electrical auto shop is the place where you can find professionals for this task. Now the problem is getting accessibility when you are out of the car. For this, it is good to install a range booster or wifi extender. However, internet coverage inside the car will be of high quality.
The Best Portable Satellite Internet For RVs is iDirect 
[i2pc pros_icon="icon icon-thumbs-up" cons_icon="icon icon-thumbs-down"  show_button="true" pros_title="Pros" cons_title="Cons" button_icon="icon icon-cart-1″ link_text="Customer Reviews" link="https://amzn.to/3aiXV0g" ][i2pros]
RV- wifi has many extra features like the navigation map
Speed of car wifi depends on accessibility
Cost-effective
[/i2pros] [i2cons]
Speed will not be good when you want to use the internet outside the car
[/i2cons][/i2pc]
How To Get Internet Through Unlimitedville?
To get unlimitedville internet you will have to subscribe to this organization. Its membership is a good deal for campers all over the USA. To get a membership go to its website and get a subscription. They never resell data plans within the 3 major carriers, they will simply let you use Unlimited Routers and Hotspots for as long as you are a member. These unlimited data plans are not available to the public other than members. To get unlimitedville, you need to be a member of this community. 
[i2pc pros_icon="icon icon-thumbs-up" cons_icon="icon icon-thumbs-down"  show_button="true" pros_title="Pros" cons_title="Cons" button_icon="icon icon-cart-1″ link_text="Customer Reviews" link="https://amzn.to/3aiXV0g" ][i2pros]
High-quality internet
Coverage throughout the USA
[/i2pros] [i2cons]
Costly
Coverage in USA Only
[/i2cons][/i2pc]
How to Get Wifi Through Satellite Internet while camping?
One and Only perfect Solution for internet access for camping around the corner of the world is Satellite Internet. These satellite connections include a global IsatPhone SIM card that is easy to install as other SIM cards. Once you activate it, you can get connected to anyone anywhere in the world. For activation, you need to call the company. It's in no way an alternative to the mobile.
I would never recommend you to use it in place of the mobile. Instead, you need to pair up this satellite device to your smartphone to get nearby satellite router access. This satellite internet works on different principles, not similar to that we may observe in TV and other internet connections. Remember each router offers different quality of speed. Some require a clear sky view or favorable weather conditions.
Best Satellite Phone Kits For Campers
Are you in search of the best Satellite Kits in 2022? Check- out  our top picks below:
[i2pc pros_icon="icon icon-thumbs-up" cons_icon="icon icon-thumbs-down"  show_button="true" pros_title="Pros" cons_title="Cons" button_icon="icon icon-cart-1″ link_text="Customer Reviews" link="https://amzn.to/3aiXV0g" ][i2pros]
Available everywhere across the globe
Easy to carry and connect
Customer service of satellite companies is very good
[/i2pros] [i2cons]
Not as fast as the internet, we use at home.
Need a clear sky view for most of the routers.
Costly
[/i2cons][/i2pc]
Final Words:
Finally, Internet access is possible when you are on your camping adventure. But somewhere you will have to compromise on speed. The best solution is to invest money in Satellite Internet. It's true that you will have to pay out of pocket but it's worth its price. 
Camping buddies don't forget to take solar chargers for your mobile or other chargeable devices with you. Whatever sources of internet connectivity you may find, you will need a mobile modem at the end. So, don't forget to keep your mobile charged all the time. Watching videos and live streaming can drop the battery soon. That's why ensuring the limited usage of mobile is essential. Only use it when you need to connect with your friends and family members.
Enjoy Camping! Good Luck!