Paladins Tier List | Best Characters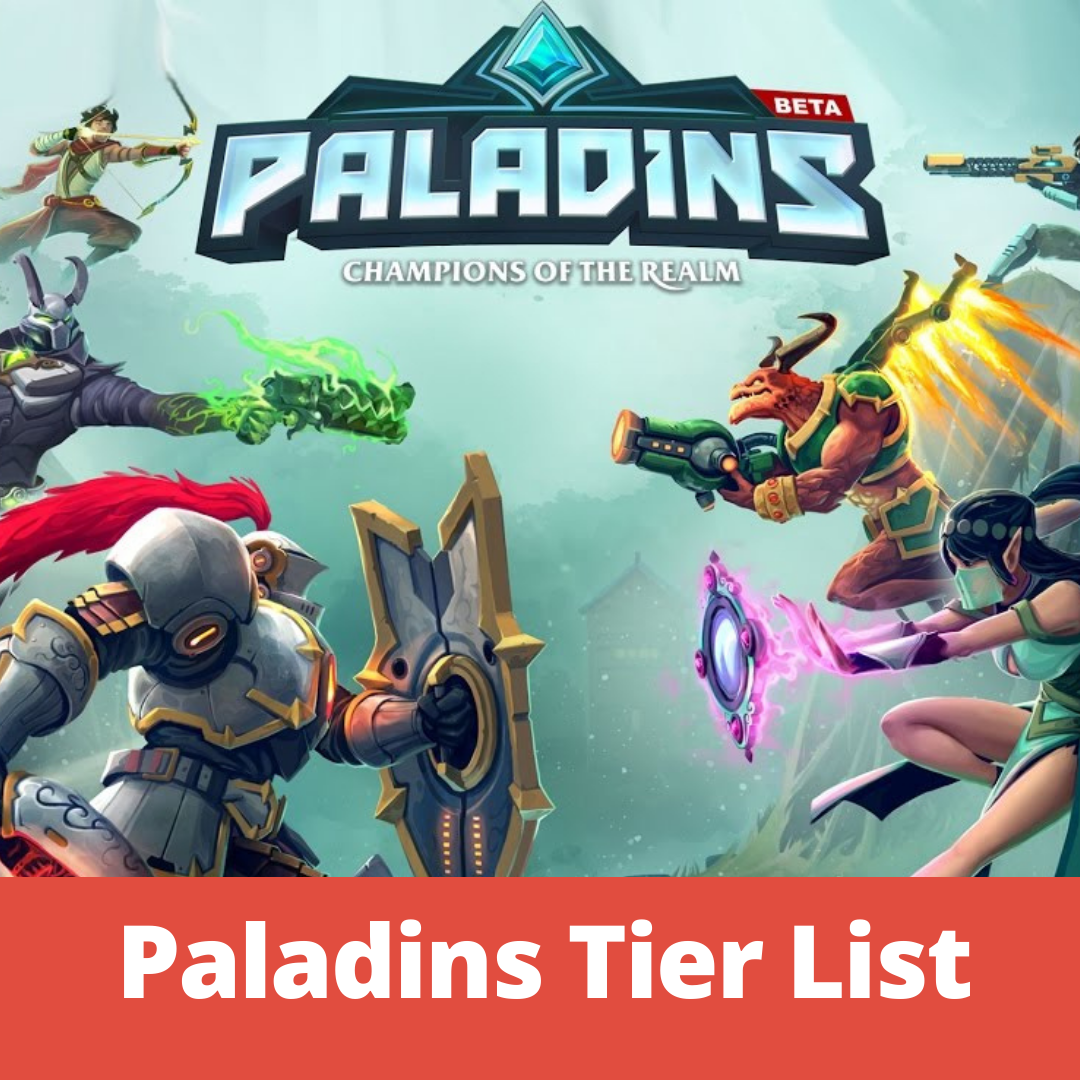 Want to win your paladins game with the winning hero? Here is the best paladins heros tier list 2021 before start your game.
Now you can win your Paladins game with perfect champions in 2021, check out below the strongest and up-to-date paladins tier list to help you play well. These heroes are chosen by us from different sources, all tiers from the best & strong category list.
In this advanced gaming era, this Paladin seems to be like a blessing in disguise. Paladins is an advanced first-person shooter game that can be played online anywhere anytime, the plus point of this game is that it is free of cost shooter sensational game.
Because of the strong colourful graphics and features, this game challenged many other online games like overwatch, etc. Paladin was launched in 2018 by Hi Rez studios and it was developed by Evil Mojos game. This game is designed so keenly and vastly for platform devices like Xbox one, play station 4, Nintendo Switch, and Microsoft windows. It is the combined edition of science fiction and fantasy.
In the combat field of this game, there will be two groups, each group is of five players, the player of this game will have fun with their own selected champions, the features of customised skin and advanced weapons with diverse maps layout are also included in it. Each selected champion has its own unique features, skin, and modified weapons but once if the game started the champions cannot be changed during combat field matches. Each champion has a specific conclusive supreme skill to change the situation or take hold in the combat field all around. That's why it is the champions game of the realm.
Note:
Visit here for updated and user-generated tiers list at Tier List Maker
Also for filler list guides for pro gamers at Filler List
Like other games, Paladins is also having specific modes gameplays or in the term of Paladin game, there are some tiers of it as well.
Modes of paladins:
Check Out All Content Here:
The list of modes is as follows.
Siege
Onslaught
Team deathmatch
Ranked
Paladins Tier List 2021 – Best Champions
Updated Heros


SS Tiers


Atlas

Atlas

S Tiers


Kinessa

LO

KhanPaladins

Mal' Damba


Terminus


Jenos

Lian

Makoa

Sha Lin


Cassie

Grover

Fernando

Tiberius

Tyra

Vora

Evie

Corvus


Ash

Zhin

Androxus

A Tiers


Maeve

Raum

Ruckus

Willo

Buck

Bomb King

Ying

Yagorath

Drogoz

B Tiers


Inara

Lex

Seris

Viktor

Vivian

Dredge

Furia

Imani

C Tiers


Koga

Strix

Talus

Torvald

Vatu

D Tiers


Moji

Grohk

Pip

Skye
Different Types of Tiers:
There are 5 kinds of tiers in the Paladins game, these are:
1) Paladins Tier List: S Tier
The heroes/ champions of this tier seem to be more powerful in the combat field, they are likely to have much magnificent power to ban the field. They are also called instant lock champions to make a divine huge difference in the game against their opponent.  Corvus, inara, and lo tend to be the best characters in the game. Inara is one of the best hefty superheroes of the game, for making the game mind-blowing challenging inara is the most suitable and desirable option in the eye/sight of an expert or master of this game.
2) Paladins Tier List: A Tier
These characters of this tier are much fascinated and appealing towards the players while selecting their champions because of their modified updated skin and weapons. The skills or performance of these champions/ heroes are a handful and more than average than the composited team. The versatile look of the terminus, moderate look of viktor, cladius way of seris, animation of androus, reptile makao, the baldheaded buck, and evolved mal'damba coincides the advanced upgraded state of graphics and are much appealing towards its players.
Atlas of this tier is considered as one of the best frontline warriors as it has the protective sheath which has the power to resist or offense from the upcoming fire flames of the enemy. Moreover, the spinning shell and punching along with canon these specific tact of Makao are some of the great features of this A tier champions. Not the least Makao's spinning anchor not only offense/defend it from opponent attacks this act also helps a lot in boosting up the lifeline/immunity of this reptilian Makao. The Bomb king character of this tier has the ultimate power to take a robust hold and control of the battlefield.
3) Paladins Tier List: B Tier
B tier champions support the game so genuinely that the players enjoy the game without any hesitation or fear of losing the game. B-tier heroes are best for beginners, here are some best characters of this tier.
The Vora of B tier is perfect for the beginners of this game. The Cc tools of Vora are easy and best for the rookie of the paladin, if one wants to be a master of this game battlefield then one should go for Vora for provoking proficiency in his/her game. Buck of B tier is itself a vigorous and well-built flanker of the game. Furia supports the game much more than one expectation. Furia has the ability to heal up quickly if any rookie of the game wants to participate equally for a team with other participants then furia will never disappoint you.
4) Paladins Tier List: C Tier
The heroes of this tier are much-defined ones. If your opponent misconstrues you then Tyra is the best option for you to underrate your enemy with the hefty flow in order to combat the battle. Koga is the most furious ninja of the game, the frightened looks and actions of it for defending its team and create fear in the hearts of its enemies. For prevailing own splendid victory on the battlefield, the little dragon Drogoz is enough for the giant monsters and dragons too, it can easily take control of the enemy through its spectacular sharp magical wings.
5) Paladins Tier List: F Tier
This tier is recently upgraded with the heaviest character or hero i.e. Vatu. The shadow bombs technique of vatu in battlefield demolish its opponent within a wink of an eye, vatu highest leading chief skills will change all the scenario of the entire game and because of its leading incredible qualities vatu can easily name the victory or win by nose.
Frequently Asked Questions:
Who is the best support character in Paladins?
Ans: Mal'damba is the best support character in paladins because he is equipped with the full tight kit, his stuns also balanced his support in the game. Lo and Luna are also good as support characters.
Who is the best tank character in Paladins?
Ans: Inara is the best tank character in paladins, her stunt of targeting its zone is much more accurate and foremost.
Who is the best Healer character in Paladins?
Ans: Ying is the best healing character in paladins. To play with the Ying champion one should really have vast experience in this game because to play as a Ying champion is not an easy task or sweet candy. Selecting Ying as a champion, this hero/character requires and demands a proficient expert player of a game.
Who is the best attack character in Paladins?
Ans: Maeve is the best attack character with that Makao is also not a bad choice for it.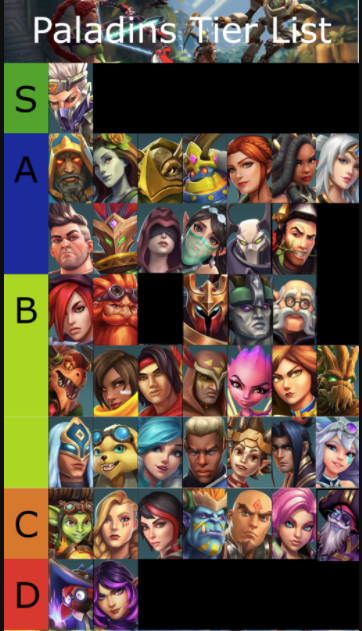 Search Also:

Tap Titans 2- Artifacts Tier List (Ancients & Outsiders) Guide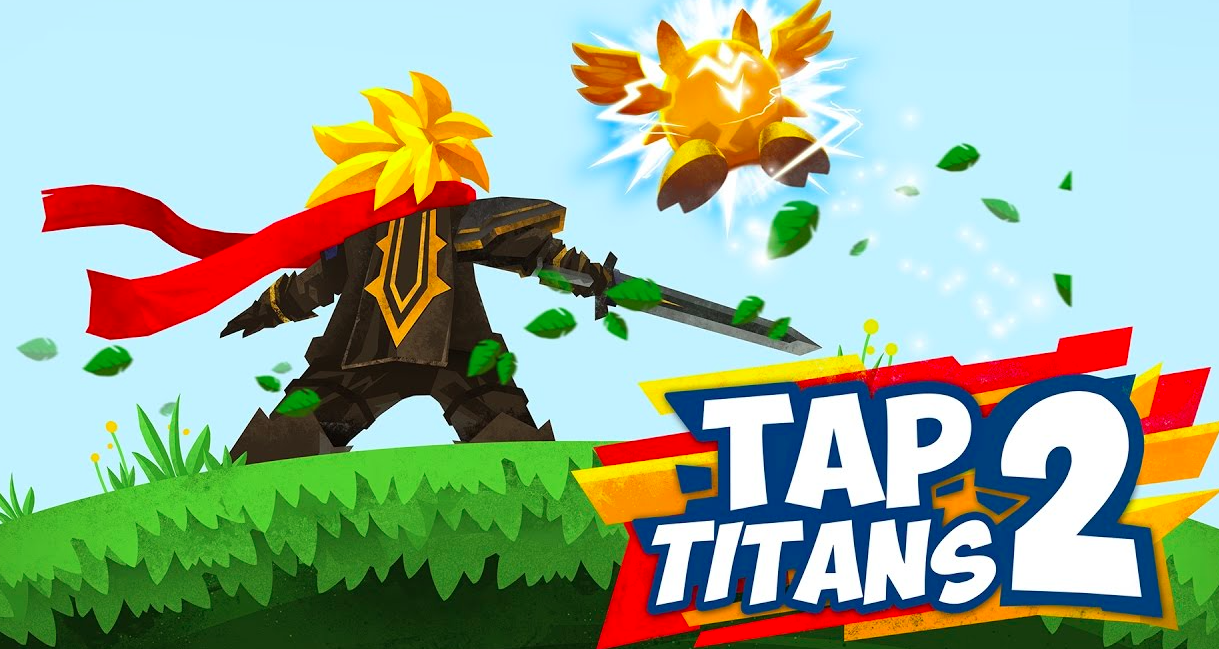 Today we have updated latest tier list of Tap Titans 2 Artifacts Tier List with Ancients & Outsider as well, we searched up-to 50+ different tier list of tab titans 2 check out below .
If you are Tap Titans game players then its a great news for you, Tap Titans 2 just released few days back and offering amazing changes from old one. In old game you need level up your sword master to gain coins and purchasing heroes to fight in game.
Also Visit to check our Filler List, Watch Order & Tier List.
In this post we discuss about Tap Titans 2 tier list, artifacts list and also clicker heroes artifact and outsiders tier list 2022!
Tap Titans 2 – Artifacts Tier List
Check Out All Content Here:
| Sr | Artifact | Tier |
| --- | --- | --- |
| 1 | Heroic Shield | A |
| 2 | Furies Bow | A |
| 3 | Charm of the Ancient | A |
| 4 | Book of Shadows | A |
| 5 | Axe of Muerte | A |
| 6 | Fruit of Eden | A |
| 7 | Aegis | B |
| 8 | Glacial Axe | B |
| 9 | Lethe Water | B |
| 10 | The Sword of Storms | B |
| 11 | Parchment of Foresight | B |
| 12 | Bringer of Ragnarok | B |
| 13 | Hero's Blade | B |
| 14 | Blade of Damocles | B |
| 15 | Heavenly Sword | B |
| 16 | Book of Prophecy | C |
| 17 | Divine Retribution | C |
| 18 | Ring of Fealty | C |
| 19 | Helmet of Madness | C |
| 20 | Staff of Radiance | C |
| 21 | Invader's Shield | C |
| 22 | Forbidden Scroll | C |
| 23 | Swamp Gauntlet | C |
| 24 | Amethyst Staff | C |
| 25 | Oak Staff | D |
| 26 | Laborer's Pendant | D |
| 27 | Stone of the Valrunes | D |
| 28 | Chest of Contentment | D |
| 29 | The Arcana Cloak | D |
| 30 | Titan's Mask | D |
| 31 | Elixir of Eden | D |
| 32 | Egg of Fortune | D |
| 33 | Titan Spear | E |
| 34 | Glove of Kuma | E |
| 35 | Divine Chalice | E |
| 36 | Hunter's Ointment | E |
| 37 | Infinity Pendulum | E |
| 38 | Drunken Hammer | E |
Clicker Heroes Artifact Tier List:
| Sr | Tier 1 | Tier 2 | Tier 3 | Tier 4 |
| --- | --- | --- | --- | --- |
| 1 | Solomon | Siyalatas (idle)/Juggernaut (active) | Dogcog | Vaagur |
| 2 | Kumawakamaru | Libertas (idle)/Fragsworth (active) | Fortuna | Thusia |
| 3 | Atman | Bhaal (active) | Bubos | Kleptos |
| 4 | Iris | Argaiv | Morgulis | Sniperino |
| 5 | | Mimzee | Revolc | Hecatonchier |
| 6 | | Mammon | Juggernaut (idle)/Siyalatas (active) | Chawedo |
| 7 | | Dora | Fragsworth (idle)/Libertas (active) | Chronos |
| 8 | | | Bhaal (idle)/Pluto (hybrid) | Berserker |
| 9 | | | | Energon |
| 10 | | | | Khrysos |
Clicker Heroes Outsiders Tier List
| Sr | Tier Names |
| --- | --- |
| 1 | Xyliqil |
| 2 | Ponyboy |
| 3 | Chor'gorloth |
| 4 | Phandoryss |
| 5 | Borb |
| 6 | Rhageist |
| 7 | K'Ariqua |
| 8 | Orphalas |
| 9 | Sen-Akhan |
We have enlisted all tier list of different characters from different trusted sources like wikipedia or youtube etc, we will update tier list depends on new game version and heroes in 2022, if you are new players and searching for playing this one, we recommend our watch order guide and tier list to understand all version with characters before start!
PSU Tier List – Power Supplies

Check Out All Content Here:
PSU Tier List 2021:
Tier S (Platinum)
| Sr: | Name | Model | Manufacturer | Rating | Power |
| --- | --- | --- | --- | --- | --- |
| 1 | Be Quiet! Dark Power Pro11 | BN255 | Be Quiet | Platinum | 1200W |
| 2 | MasterWatt Maker 1200 MiJ | MPZ-C002-AFBAT | Cooler Master | Titanium | 1200W |
| 3 | Seasonic PRIME Series | SSR-1300PD | Seasonic | Titanium | 1300W |
| 4 | FSP Aurum PT | PT-1200FM | FSP | Platinum | 1200W |
| 5 | Antec High Current | HCG-850M | Antec | Bronze | 850W |
| 6 | Enermax Platimax | EPF1200EWT | Enermax | Platinum | 1200W |
| 7 | Corsair-AXi Series | CP-9020151-NA | Corsair | Titanium & platinum | 850-1250W |
Tier A (Diamond)
| Sr: | Name | Model | Manufacturer | Rating | Power |
| --- | --- | --- | --- | --- | --- |
| 1 | Corsair RMi/RMx Series | CP-9020094-EU | Corsair | Gold | 1000W |
| 2 | Bitfenix Formula Gold | BP-FM750ULAG-7R | Bitfenix | Gold | 750W |
| 3 | Aerocool Project 7 | P7-850W Platinum | Aerocool | Platinum | 850W |
| 4 | Bitfenix Whisper | P7-850W Platinum | Bitfinex | Gold | 850W |
| 5 | XFX Pro Gold | RSA00-80GAD3-US | XFX | Gold | 1000W |
| 6 | Corsair Vengeance | CP-9020176-NA | Corsair | Silver | 750W |
| 7 | Riotoro Enigma Series | PR-GP0850-FMG2-NA | Riotoro Inc. | Gold | 850W |
| 8 | Corsair HX/HXi series | CP-9020070-NA | Corsair | Platinum | 1200W |
| 9 | Super Power Gold | 120-G2-1000-XR | Super Power | Gold/Platinum | 1000W |
| 10 | Sentey Platinum | GSP1000-SM | Sentey | Platinum | 1000W |
| 11 | Thermaltake 1250D | PS-TPI-1250DPCTUS-T | Thermaltake | Platinum/Titanium | 1250W |
| 12 | Gigabyte Aorus AP850 GM | GP-AP850GM | Gigabyte | Gold | 850W |
Tier B (Golden)
| Sr: | Name | Model | Manufacturer | Rating | Power |
| --- | --- | --- | --- | --- | --- |
| 1 | MasterWATT Maker Series | MPZ-F001-AFBAT-EU | Cooler Master | Platinum | 1500W |
| 2 | Be Quiet! Pure Power 11 | BN631 | Be Quiet | Gold | 700W |
| 3 | Antec Edge | EDG750 | Antec | Gold | 750W |
| 4 | Seasonic Focus Plus Gold | SSR-1000FX | Seasonic | Gold | 1000W |
| 5 | Enermax Digifanless GX | PH-P550G_US01 | Enermax | Platinum | 550W |
| 6 | Seasonic Focus Gold | SSR-750FX | Seasonic | Gold | 750W |
| 7 | Seasonic Focus Plus Platinum | SSR-850PX | Seasonic | Platinum | 850W |
| 8 | XFX XTS | CX750M | XFX | Platinum | 1200W |
| 9 | Seasonic SnowSilent | SSR-750T | Seasonic | Platinum | 1500W |
| 10 | Lepa G1600 | G1600-MA | LEPA | Gold | 1600W |
| 11 | EVGA G3 | 220-G3-1000-X1 | EVGA | Gold | 1000W |
| 12 | FSP Hydro G | HG850 | FSP | Gold | 850W |
| 13 | EVGA GS | 220-GS-0650-V1 | EVGA | Gold | 650W |
| 14 | Riotoro Enigma | Enigma 850W | Riotoro | Gold | 850W |
| 15 | LEPA G1600 | G1600-MA | LEPA | Gold | 1600W |
| 16 | Seasonic M12II | M12II-850 Bronze | Seasonic | Bronze | 850W |
| 17 | Silverstone Nightjar NJ600 | SST-NJ600 | Silverstone | Platinum | 600W |
| 18 | Seasonic S12G | S12G-750 | Seasonic | Gold | 750W |
| 19 | Thermaltake Toughpower Grand | PS-TPG-1200FPCGUS-1 | Thermaltake | Platinum | 1200W |
| 20 | Sentey Solid Power SS | SDP850-SS | Sentey | Gold | 850W |
| 21 | Enermax Digifanless GX | PH-P550G_US01 | Enermaz | Platinum | 550W |
Tier D (bronze)
| Sr: | Name | Model | Manufacturer | Rating | Power |
| --- | --- | --- | --- | --- | --- |
| 1 | SAMA Armor Gold | HTX-750-B7 | SAMA | Gold | 750W |
| 2 | Silverstone Strider Titanium Series | SST-ST1500-TI | Silverstone | Titanium | 1500W |
| 3 | Silverstone Gold Evolution Series | SST-ST1200-G | Silverstone | Gold | 1200W |
| 4 | Cooler Master GM Or GX Storm | RS750-ACAAB3-xx | Cooler Master | Bronze/Bronze | 750W/750W |
| 5 | Seasonic SS | SS-660XP | Seasonic | Bronze | 660W |
| 6 | PC Power & Cooling Turbo Cool | FPS0860-A4H0X | PC Power & Cooling | Gold | 860W |
| 7 | XFX TS Gold | P1-750G-TS3X | XFX | Bronze | 750W |
| 8 | Be Quite! Power Zone | ATX 12V 2.4 | BE Quiet | Bronze | 1000W |
| 9 | Deepcool DQST | 8545 | Deep Cool | Gold | 750W |
| 10 | LEPA G Series | G1600-MA | LEPA | Gold | 1600W |
| 11 | Cooler Master GM | RS750-AMAAB1-US | Cooler Master | Bronze | 750W |
| 12 | Fractal Design Tesla R2 | FD-PSU-TS2B-500W | Fractal | Gold | 500W |
| 13 | Silverstone Strider Gold | ST1500-GS | Silverstone | Gold | 1500W |
| 14 | Rosewill Capstone G | Capstone G750 | Rosewill Inc. | Gold | 1200W |
| 15 | Thermaltake Smart Series | SP-850M | Thermaltake | Bronze | 850W |
| 16 | Enermax Revolution X't | ERX750AWT | Enermax | Gold | 750W |
| 17 | Cooler Master MasterWatt Lite | MPX-6001-ACAAW | Cooler Master | White | 600W |
| 18 | Thermaltake Toughpower Gold Series | TT-PS-TPD-0550MPCGAU-1 | Thermaltake | Gold | 550-1500W |
Tier C (Silver)
| Sr: | Name | Model | Manufacturer | Rating | Power |
| --- | --- | --- | --- | --- | --- |
| 1 | Seasonic G Series | G-750 SSR-750RM | Seasonic | Gold | 750W |
| 2 | Fractal Design Newton R3 | 1000w | Fractal | Platinum | 1000W |
| 3 | FSP Aurum Pro | AU-850PRO | FSP | Platinum | 1200W |
| 4 | Fractal Design Tesla R2 | FD-PSU-TS2B-1000W | Fractal | Gold | 1000W |
| 5 | Antec TruePower Classic | TP-750C | Antec | Gold | 750W |
| 6 | Be Quite! Straight Power E10 | Straight Power 11 | 1000W | Be Quiet | Gold | 1000W |
| 7 | Corsair CX | CP-9020061-NA | Corsair | Bronze | 750W |
| 8 | Antec Neo ECO II | NE650M | Antec | Bronze | 650W |
| 9 | Kolink Continuum | ATX12V 2.3 | Kolink | Platinum | 1000W |
| 10 | Super Flower Platinum King | SF-650P14PE | Super Flower | Platinum | 650W |
| 11 | Riotoro Onyx | PR-BA0750-SM | Riotoro Inc. | Bronze | 750W |
| 12 | Silverstone Gold Evolution | ST85F-GS | Silverstone | Gold | 800W |
| 13 | Fractal Design Integra M Series | FD-PSU-IN3B-750W | Fractal Design | Bronze | 750W |
| 14 | Zalman EBT | ZM1200-EBT 1200W | Zalman | Gold | 1200W |
| 15 | Vivo 24K | 24k 650W | Vivo | Gold | 650W |
| 16 | Rosewill Silent Night | SilentNight-500 | Rosewill Inc. | Platinum | 500W |
| 17 | XFX ProSeries Bronze | P1850BBEFX | XFX | Bronze | 800W |
Tier F (bronze-low)
| Sr: | Name | Model | Manufacturer | Rating | Power | |
| --- | --- | --- | --- | --- | --- | --- |
| 1 | Seasonic ECO | SSR-430ST | Seasonic | Bronze | 620W | |
| 2 | Enermax NaXn | ENP450AST | Enermax | White | 450W | 450W |
| 3 | Thermaltake Paris | W0493RE | Thermaltake | Gold | 650W | 650W |
| 4 | Corsair Gaming Series | GS800 | Corsair | Bronze | 800W | 800W |
| 5 | Be Quite! Power Zone | Power Zone 1000W | Be Quiet | Bronze | 1000W | 1000W |
| 6 | Corsair CX Green Units | CP-9010048-NA | Corsair | Bronze | 750W | 750W |
| 7 | XFX XT | P1600BXTFR | XFX | Bronze | 600W | 600W |
| 8 | Seasonic M12II | M12II-650 BRONZE | Seasonic | Bronze | 650W | 650W |
| 9 | Antec Basiq BQ | BP500U | Antec | White | 500W | 500W |
| 10 | OCZ ZT or ModXStream | OCZ-ZX1000W | OCZ | Bronze | 1000W | 1000W |
| 11 | EVGA 600 | 100-W1-0600-K1 | EVGA | White | 600W | 600W |
Tier U (Carbon):
| Sr: | Name | Model | Manufacturer | Rating | Power | |
| --- | --- | --- | --- | --- | --- | --- |
| 1 | FSP Hexa | HE-500 | FSP | White | 700W | |
| 2 | Cooler Master Elite Series | MPW-6001-ACABN1 | Cooler Master | Unrated | 600W | |
| 3 | EVGA N1 | 100-N1-0750-L1 | EVGA | Unrated | 750W | |
GranBlue Fantasy (GBF) Tier List – Best Characters

Check Out All Content Here:
GranBlue Fantasy (GBF) Tier List – Best Characters
Tier A Characters:
| Sr: | Element | Units |
| --- | --- | --- |
| 1 | Fire | Mugen, Therese, Yuisis, Aoidos, Colossus, Lancelot and Vane, Teena, Tsubasa, Grea, Illnot, Magisa, Tabina, Percival, Rackam, Satyr, Reinhardtzar, Scathacha, Yuel, Abby, Beatrix, Drang, Ghandagoza, Ilsa, Kallen Kouzuki, Zahlhamelina |
| 2 | Water | Kolulu, Vania and Malinda, Lancelot, Yuel, Aglovale, Romeo, Shura, Anne, Aqours Second-Years, Arulumaya, Milleore and Sahil Lao, Pholia, Sandalphon, Silva, Charlotta, Diantha, Izmir, Macula Marius, Yngwie |
| 3 | Earth | Eugen, Hallessena, Ladiva, Sara, Ayer, Aletheia, De La Fille, Medusa, Baal, Eustace, Jessica, Rosetta, Soriz, Vaseraga |
| 4 | Wind | Albert, Heles, Naoise, Lennah, Levi, Morrigna, Selfira, Stan, Societte, Gawain, Seruel, Kokkoro, and Aliza |
| 5 | Light | Rosamia, Dorothy and Claudia, Levin Sisters, Mary, Sarunan, Shitori, Zeta, Amira, Sandalphon, Juliet, Percival, Silva, and Danua |
| 6 | Dark | Lady Grey, Azazel, Tanya, Lunalu, Nicholas, Rosetta, Narmaya, Orchid, Vaseraga, Black Knights and Orchid, Joker, Kou, Seox, Veight |
Tier B Characters:
| Sr: | Element | Units |
| --- | --- | --- |
| 1 | Fire | Agielba, Charioce XVII, Aquors Third-Years |
| 2 | Water | Chat Noir, Lilele, Owen, Cucuroux, Lady Katapillar and Vira |
| 3 | Earth | Aquors First-Years, Razia, Yggdrasil, Nezahualpilli, Walder, Yaia, Catherine, Herja, Ilsa, and Jin |
| 4 | Wind | Mirin, Arriet, Gachapin, Kaede Takagaki, Korwa, Petra, Sen, Carmelina, Christina, Feena, Suzaku Kururugi, Yuisis, Juri, Sevilbarra |
| 5 | Light | Baotorda, Conan Edogawa, Pecorine, Cure Black and Cure White, Mikazuki Munechika, Sophia |
| 6 | Dark | Cerberus, Forte, Lelouch Lamperouge, Marquiares, Skull, Freezie, Karyl |
Tier C Characters:
| Sr: | Element | Units |
| --- | --- | --- |
| 1 | Fire | Danua, Aster, Gemini Sunrise, Izuminokami Kanesada, Lina, Friday, Dante, Ferry, Sutera, Miria Akagi, Naoise |
| 2 | Water | Mina, Ejaeli, Minami Nitta, Cailana, Leona, Lowain, Morphe and Phoebe |
| 3 | Earth | Melleau, Galadar, The Lowain Brothers, Nemone, Almeida |
| 4 | Wind | Helnar, Mikasa, Mimlemel and Stumpeye, Sevastien, Shiki Ichinose, Krugne, Miku Maekawa, Sutera |
| 5 | Light | Vermeil, Arusha, Bridgette and Cordelia, Erica Fontaine, Tear Grants, Feather, Nicholas, Tyre |
| 6 | Dark | Katalina, Sarunan, Shao, Will, You, Deliford, Mika Jougasaki, Elize Lotus, Meg, Richard, Zaja |
Tier D Characters:
| Sr: | Element | Units |
| --- | --- | --- |
| 1 | Fire | Nina Drango, Cassius, Karin, Mio Honda, Rosine, Alec, Barawa, Carren, Elmott, Ippatsu, Jessica, Karva, Mary, Milla Maxwell, Ryan, Stahn Aileron |
| 2 | Water | Kaoru Sakuraba, Ange, Camieux, Chun-Li, Erin, Farrah, Mizuki Kawashima, Naga, Rin Shibuya, Sahli Lao, Sig, Suframare, Lamretta, Mishra, Pamela, Anastasia, Ulamnuran |
| 3 | Earth | Airi Totoki, Redluck, Vanzza, Zaja, Augusta, Carmelina, Claudia, Juri, Kanako Mimura, Laguna, Mariah, Skull, Yamanbagiri Kunihiro, Anzu Futaba, J.J., La Coiffe, Mimlemel and Pun-Kin |
| 4 | Wind | Arisa, Arthur, Karteira, Keehar, Rashid, Toru Amuro, Tsubasa Kashiwagi, Eso, Robertina, Ryu, Sakura Shinjugi, Arthur and Mordred, Chloe, Goblin Mage, Hazen |
| 5 | Light | Ceylan, Uzuki Shimamura, Daetta, Elta, Ezecrain, Johann, Philosophia, Nakoruru, Novei, Soriz, Sakura Kinomoto |
| 6 | Dark | Koume Shirasaka, Stan, Yuri Lowell, Zehek, Randall, Ranko Kanzaki, Luna |
Tier F Characters:
| Sr: | Element | Units |
| --- | --- | --- |
| 1 | Fire | Anna, Sarya, Teru Tendo, Dorothy |
| 2 | Water | Pengy |
| 3 | Earth | Paris, Volenna |
| 4 | Wind | Aster, Haohmaru, Syr, Joy |
| 5 | Light | Sachiko Koshizimu |
| 6 | Dark | Ange, Ludmila, Rita |
Tier F Characters:
| Sr: | Element | Units |
| --- | --- | --- |
| 1 | Fire | Shiva, Anila, Metera, Athena, Zeta, Siegfried |
| 2 | Water | Vajra, Altair, Europa, Katalina, Lecia, Lucio, Narmaya, Sturm, Cagliostro, Grea, Lily, Vane |
| 3 | Earth | Alexiel, Mahira, Zeta and Vaseraga, Dante and Freiheit, Leona, Vira, Cain, Pengy |
| 4 | Wind | Andira, Meteon, Monika, Nezahualpilli, Tiamat, Yodarha, Grimnir, Yurius |
| 5 | Light | Jeanne d'Arc, Halluel and Malluel, Io, Ferry, Ilsa, Kumbhira, Noa, Hallessena, Melissabelle, Robomi, Zooey |
| 6 | Dark | Rei, Olivia, Predator, Black Knight, Clarisse, Helel ben Shalem, Kolulu, Vikala, Amira, Anthuria, Vania, Wulf and Renie |